Helping You To Remember
At Barham Crematorium, we understand the difficult journeys the bereaved take in saying their final farewell and that the heartache of losing a loved one takes time to heal.
Choosing a way of remembering a loved one or carrying out their wishes helps create a sense of purpose throughout the bereavement journey and can bring some level of comfort to the future ahead.
We are committed to providing the highest level of care to the bereaved and ensuring you get an opportunity to create a uniquely personal memorial to commemorate the life of your loved one.
On these pages you will find information about our choice of memorials, interment options and ways in which they can be personalised.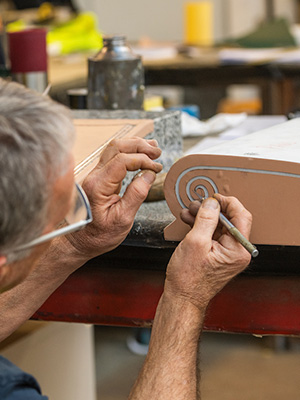 Making a Decision - Uniquely Personal
Our team of memorial experts will be pleased to hear from you and discuss your requirements.
They will be able to discuss all aspects of the memorial purchase, including your ideas, location, materials, personalisation, care, installation, payment options, insurance and even necessary regulation. For a complete peace of mind, please rest assured that our colleagues will provide guidance every step of the way.
Whether the funeral of your loved one took place at one of the Westerleigh Group crematoria or not, we can assist you with creating a suitable memorial.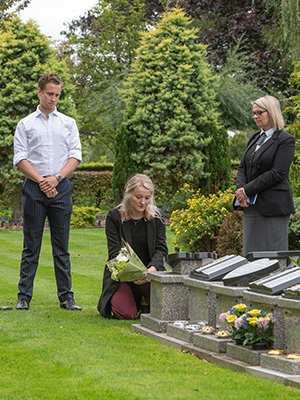 Here to help you
We advise visiting our crematorium grounds even if you wish to purchase a memorial for a private garden. A visit to our grounds will provide you with an opportunity to see our memorial products and help clarify your final selection. There will also be an opportunity to discuss your wishes regarding the ashes of your loved one. When you are ready, we will finalise and process your order.
Some items may take several weeks to be produced and we will discuss expected time lines with you based on your order specification. We will contact you again once we have an installation/delivery date for your order. If appropriate, at that point we will make further arrangements for the ashes with you.
Browse our range of Cremation Memorials below. We look forward to hearing from you and helping you create a truly personal memorial.
Your Options Explained
There are almost no limits to how you can remember your loved one. Memorialisation is a meaningful way of creating something that will withstand the test of time and a place you can visit and return to on different occasions.
This website and useful symbols associated with each memorial item, will help guide you through a variety of options, whether you are looking for a memorial at our crematoria or in a private location. Our team of experts will be able to guide you through your memorial journey.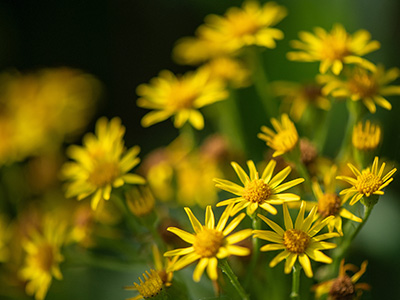 Interment
Interment of ashes provides an opportunity to create a specific final resting place for a loved one where the ashes will be placed below ground and the plot will be marked by a memorial of your choosing.
Interment can be attended by family members or performed without their presence. Our colleagues are always available to provide support and assistance whilst ensuring utmost care, respect and dignity, regardless of the chosen option.
Unfortunately, we are unable to inter ashes at Aylesbury Vale and New Forest Crematoria, however, our experienced colleagues will guide you through alternative options.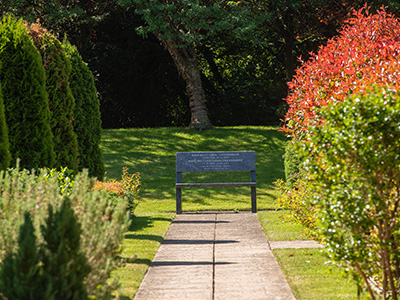 Above ground
Above ground memorials will safely hold loved one's ashes inside them without needing to inter them below ground.
Because of their above ground position, they offer more visual presence in a given space.
Placing of the ashes inside an above ground memorial can be performed in the presence of the bereaved family members or without. Our colleagues will be on hand to assist with either option and carry out all duties with the highest level of care, respect and dignity.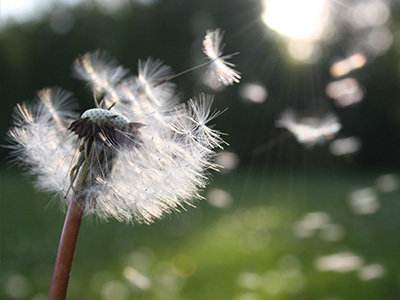 Scattering
All of our crematoria have dedicated communal and private scattering areas available.
Even if a service or cremation of a loved one did not take place at one of our crematoria, we can still assist with the scattering of their ashes on our grounds.
The scattering can be performed in the presence of family members or without their attendance. Our colleagues will be able to assist regardless of the selected option and carry out this duty with utmost respect, care and dignity.
Ash scattering in a communal area is performed free of charge if the cremation service took place at our crematorium.